MAD DOG MATH – MATH'S BEST FRIEND
TEACHER: Julie Kotoff
WHERE: Living Hope Bible Church 14301 W. McMillian Road, Boise
WHEN: Friday mornings at 9:00, 10:05, & 11:10
CLASS COST: $210 per 12-week semester (includes $50 for materials: MDM flash cards & online MDM game)
CALENDAR: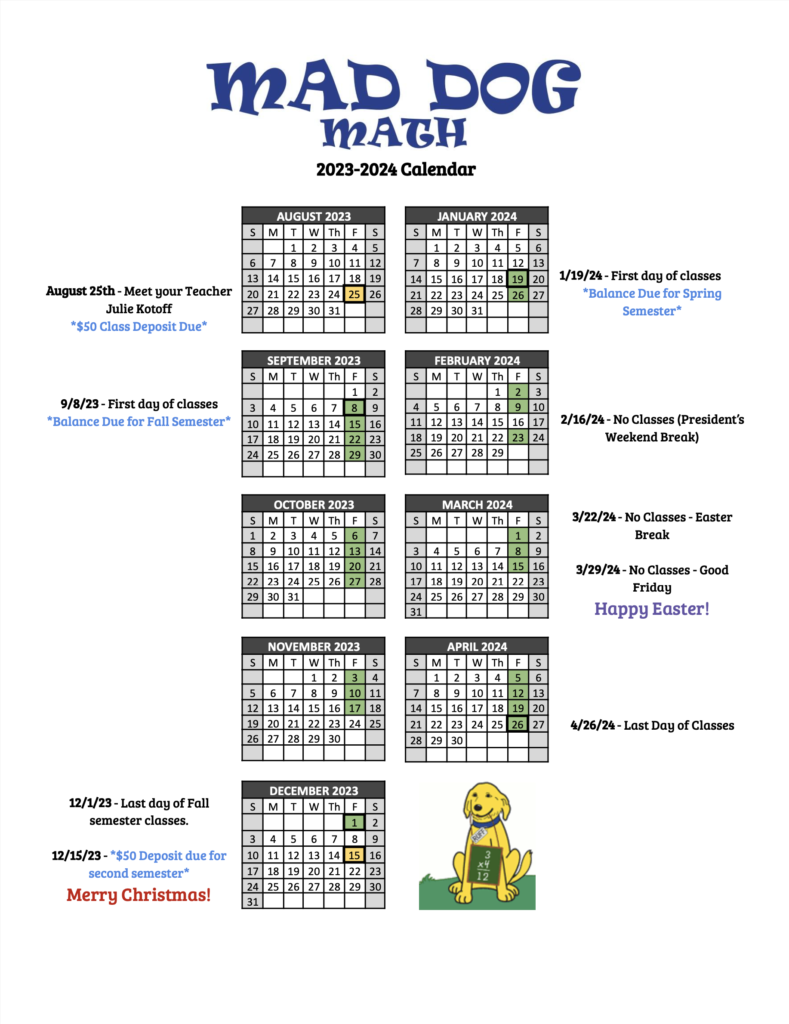 WHY MAD DOG MATH IS SO IMPORTANT IN THE ELEMENTARY YEARS:
The foundation for strong math literacy is math facts mastery. It is the gateway to fractions, which in turn, is the gateway to algebra. Students who master their addition, subtraction, multiplication, and division facts are better able to tackle higher-level math problems as they get older.
There are some tricks to learning the facts, but mostly it is by hard work, deliberate intention, and repetition that these facts are acquired. The tricks will be introduced and the Mad Dog Math system will be used in the classroom, as well as math games and Marcy Cook Tile cards to help students learn their facts.
If your child finds math frightening, laborious, discouraging, is in need of acquiring the facts or is in need of moving from accuracy to automaticity (fast, accurate, and with very little thought), then this is the class for him or her. The multi-level class will be broken up into groups by grade level or ability. All students will move through the 3 stations (Teacher Station, Math Games Station, and the Marcy Cook Tile Station) each week and will begin mastering their facts at their own pace. 1st and 2nd graders will focus on the addition and subtraction facts while students in 3rd grade and up will concentrate on the multiplication and division facts. Ten minutes of practice with flash cards and the online Mad Dog Math game are required daily (Mon-Fri) to progress.
Class lesson plans for that day are sent home each Friday evening from my personal email.
***CLASS HELPERS: Julie is looking for 2 dedicated moms/dads to help out in the classroom each Friday while she "mans" the Teacher Station. The 2 stations needing help are the Tile Station and the Math Games Station. No planning is required. She will have everything you need. She guarantees you will enjoy yourself, too! If interested, please check the box on the registration form.
CLASS DESCRIPTION:
FIRST SEMESTER:
We work hard attaining the math facts as we go through each fact family one by one. Students will practice 10-minutes per day on their MDM online game to prepare them for second semester. MDM Certificates are earned each time a student passes a club. A video on my website explains the MDM system. https://maddogmath.com/how-the-mad-dog-math-system-works
SECOND SEMESTER:
The second semester is an extension of the first. We have worked hard on the math facts during the first semester and will now start applying those facts to higher order concepts. White boards and markers will be used in class. Ten minutes per day is still required on the Mad Dog Math online game to master those math facts.
1st grade: mental math, +8, 9, and 10's tricks, place value, math terms, adding and subtracting with and without borrowing and carrying, and more…
2nd grade: mental math, +8, 9, and 10's tricks, place value, math terms, adding and subtracting with and without borrowing and carrying, column addition, introduce x/÷ and the x2, 5, and 10's families, and more…
3rd grade and up: math terms, mental math, division with remainders, harder multiplication with carrying (2-4 digits x 2-digit multiplier), long division with checking, place value, and more…
CLASS PAYMENT:
FIRST SEMESTER:
• All up front OR
• $50 deposit due when you register OR on Aug. 25 at Meet the Teacher (goes toward class fees)
• Balance due for fall semester Sept. 8
SECOND SEMESTER:
• All up front OR
• $50 deposit due Dec. 15
• Balance due for spring semester Jan. 19
***If you prefer to make payments, please arrange that with Julie. She is happy to accommodate your family.
PAYMENT METHOD:
• Cash
• Check
• Venmo: https://venmo.com/u/JulianneKotoff
CONTACT INFORMATION:
Cell: (562) 533-5772
Email: [email protected]
Website: www.maddogmath.com
Mailing Address:
Julie Kotoff
2316 San Francisco Lane
Nampa, ID 83686
***Mad Dog Math is a non-faith-based class and is reimbursable by all charter schools.
Registration
To register for the class, please download the following forms:
• Mad Dog Math Registration From – Download
• Participant Agreement (Fill out one for each participant/child) – Download
Email to [email protected].