Welcome to Mad Dog Math!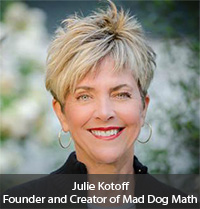 Thanks for stopping by. We so appreciate your checking us out. Please feel free to take a look around and contact us if you have any questions or comments.
Here you can find all the information about our math program, the products that we offer to complement this program and testimonials of current users of Math Dog Math.
Mad Dog Math is a fun, exciting, motivating, and challenging supplement to any math curriculum.
We've taken the basic facts and broken them down into bite-sized pieces that any child can master.
A child progresses through a series of timed drills at his own pace.
Students, for the first time, feel empowered by their gained knowledge and are not intimidated by math ever again. Where students once said, "Math is hard; I hate math!", they now say, "Math is easy; math is fun!"
There is nothing on the market like Mad Dog Math.
Approved vendor with the following charter schools:
Blue Ridge Academy
Cabrillo Point Academy
Compass
Connecting Waters
Dehesa
Empire
Excel Academy
Golden Valley
iLEAD Charter
Inspire Charter
Julian Charter
Mission Vista Academy
National University Academy
Ocean Grove
Pacific Coast Academy
River Springs
Sage Oak
Scale Academy
Shield Academy
Sky Mountain
South Sutter
Springs Charter
Summit
Suncoast Prep Academy
Online Store
MDM is available in binder-form or downloadable mastery PDFs and comes with a variety of supportive aids like software and flash cards. Visit our online store.